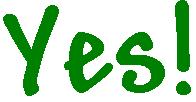 Your EDI/XML Specialists
With over 25 years of EDI experience, we GUARANTEE that we will:
Coordinator Service


With the EDI/XML Coordinator Service, The YES Men provide an outsourced EDI/XML Coordination system - manage inbound and outbound documents, track, audit and control individual documents, monitor system performance, and enhance your system as needed or required by government regulations.

How you save:

No training costs needed to run your EDI/XML

Sophisticated and timely monitoring, audits, and controls

Experts that understand your company's needs

The YES Men are knowledgeable in all major computing platforms - Windows, UNIX, Linux, Mac, Midrange, and Mainframe based systems.
The YES Men can provide this as a one-time service to get your EDI/XML house in order, or we can provide an ongoing support service to guarantee you a low-cost EDI/XML program that solves your problems.
Custom Mapping


The YES Men are experienced in many different types of data mapping software, from several different vendors. We have worked with Value Added Networks (VANS) from:
GXS

Harbinger

Sterling

Advantis

..... and many others
More importantly, we understand the language of EDI and how EDI works.